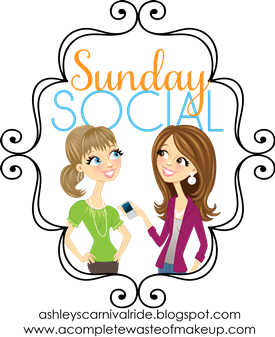 Don't forget to link up! :)
This week's questions:
1. Do you plan to change any of your eating habits in the new year?
I am always trying to eat healthier. I'm pretty good at it most days, but others are harder...days that I stay for rehearsals are tricky, because I get hungry and have to work really hard at avoiding the vending machines! I try to pack healthy and tasty snacks for lunch and after school. We do eat out on the weekends, but we've been working at only going out 2 or 3 times a week at most (which sounds crazy to most people, but is really a lot of work for us!). I've been buying more apples and oranges and veggies...so hopefully I can continue to do better this year!
2. Any workout tips to get us back in shape after the Holidays?
I think consistency is key...not that I'm great at it. Our musical was right before the holidays, and the week of the show, I was at school from 7:00 AM until at least 6:00 PM, meaning I was too tired to work out when I got home. It wasn't pretty and I gained about 3 lbs over the holidays. I've been trying to work out about 3-4 times a week, so I think it won't be too hard to lose that weight and more in the new year! I feel so much better when I'm working out!
3. Favorite thing you did over the Holidays?
I RELAXED! I never get to do that! :) I barely thought about work or anything stressful and just tried to enjoy myself and got to spend some much-needed time with my family.
4. What is something you hope to accomplish in 2013 that you did not in 2012?
I want to find and do some things that I enjoy doing. I need to make times for hobbies again. I typically just work and sleep...which doesn't give my life much meaning, does it? I need to take better care of myself, my needs, and my family. That should come first.
Happy New Year!
Next Weeks Questions:
1. What is the name of your blog? How long have you been blogging?
2. Why do you blog?
3. What is the first blog you ever followed?
4. What is your favorite post you wrote in 2012?
5. What are your blogging goals for 2013?
6. Top 3 favorite blogs to follow?